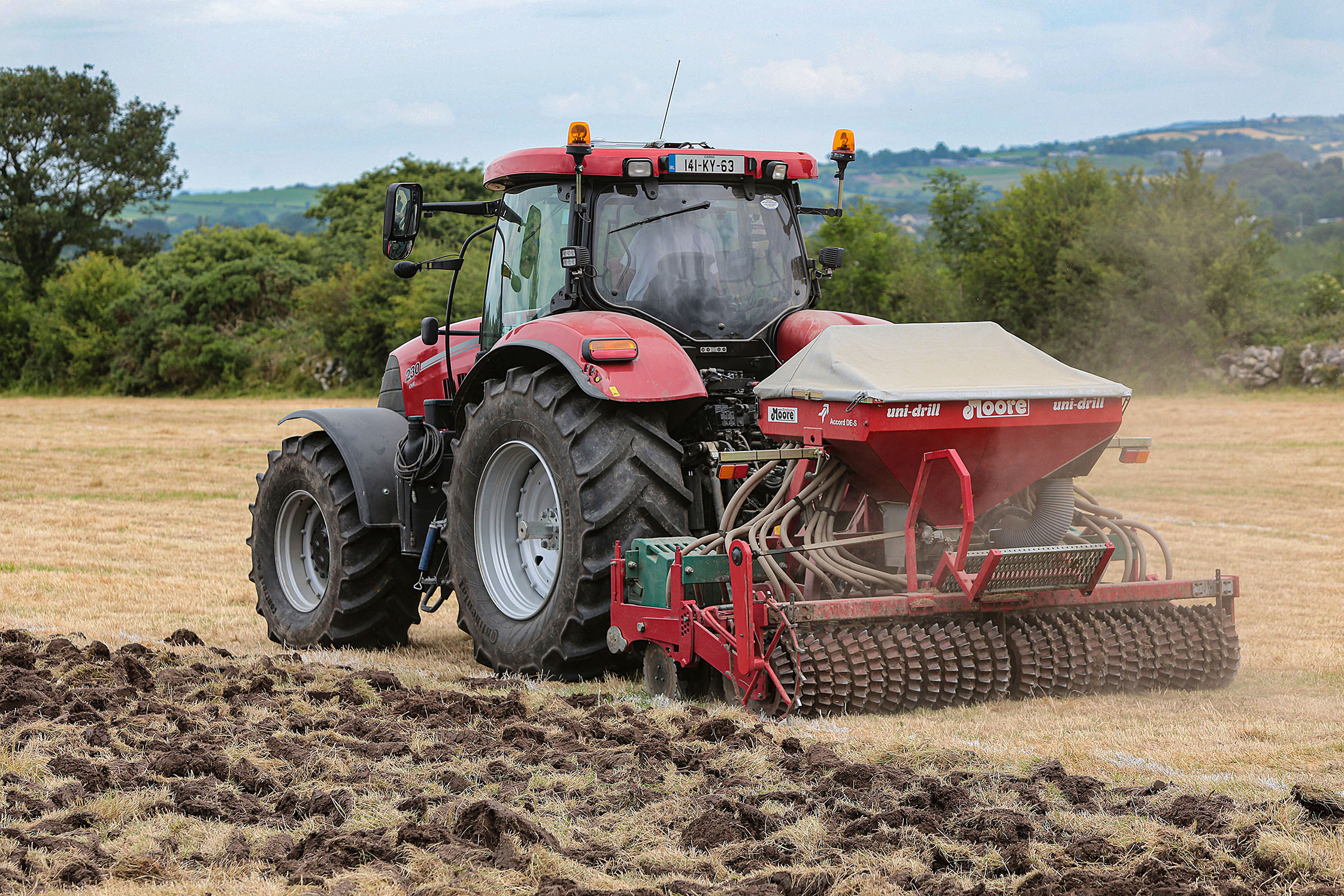 Reseeding breeds new life into old swards. New grass varieties are constantly being developed with improved sward quality and dry matter yields. These varieties have higher spring and autumn growth providing grass at the shoulders of the grazing season when it is most needed. New reseeds also have improved response to nitrogen. Reseeding a proportion of your farm each year increases total and seasonal dry matter production. When accompanied by an increased stocking rate, it leads to increased grass utilisation and increased farm profitability.
A low proportion of perennial ryegrass in the sward is costing dairy farmers up to €300/ha in lost grass production during the growing season. Reseeding should be looked at as a long-term investment. Ideally 10-15% of the farm, should be reseeded annually, resulting in a completely renewed sward every 8-10 years. Every extra tonne of grass utilised is worth an additional €173 to the farm. Pick out your underperforming paddocks for reseeding today.
Choosing your Grass seed
No single grass variety has all the desired traits and a grass seed mix containing 3 or 4 varieties can address this. When it comes to selecting the correct seed mixture, the Teagasc Pasture Profit Index is essential to reference specific characteristics and value within the pasture similar to EBI when picking bulls.
Grazing versus Silage
In a silage mix, high overall DM production and density are the key targets. Silage mixes should not be used where swards are used mainly for grazing.
For grazing: 50% diploid: 50 % tetraploid (reduce tetraploid % on heavy soils)
For silage: 60% diploid: 40% tetraploid (Narrow range in heading dates are advised)
Sowing rates: 14-16 kg/acre depending on the time of year.
Clover should also be considered in grazing mixtures as it increases dry matter intake (+ 1.5 kg DM/cow/day) which results in increased milk solids production (+30 kg MS/cow/year). Including clover increases sward dry matter production (+ 800 kg DM/ha) and has the potential to reduce nitrogen fertiliser with clover content of >25%. Clover is now a requirement for derogation farms considering reseeding.
Diploids v's tetraploids
Varieties are classified as either diploid or tetraploid. The main difference between diploids and tetraploids is the number of chromosomes per cell in the plant. Diploids have two sets of chromosomes per cell while tetraploids have four. Tetraploids have bigger cells and have a higher ratio of cell contents (soluble carbohydrates) to cell wall (fibre), indicating that they have a higher water content. Diploids have more tillers per plant and, due to the lower water content per cell, have higher dry matter content. Tetraploids are more palatable to livestock, leading to higher intakes, and are more drought tolerant. On heavy soils subject to poaching, the persistence of tetraploids may suffer.
Heading dates
Ideally, seed mixtures should have less than a 7-day range in heading dates between cultivars.
Getting the field back in production
The target turnaround time to get a reseed back in production is 60 days. Generally reseeding is seen as a negative due to the view that paddocks are out of action for too long. The time that the sward is out of production can be minimised by cultivating 7-10 days after spraying off the old grass – don't wait too long after spray off. The field should be sprayed off with a glyphosate product in order to kill off any existing vegetation present. During ploughing any trash on the surface is buried. It also is a remedy for compaction and should help with drainage.
After ploughing spread lime and fertiliser based on the soil sample results. Target a pH of 6.3 and ensure appropriate levels of P and K are applied.
Power harrow the surface to produce a fine, firm and level seed bed which will give optimal conditions for sowing. Power harrow the soil surface to a depth of 2-3 inches.
Ideally, the field should be harrowed 3 times in different directions to ensure a fine till and to break up old sods. To achieve a firm seed bed the field should be rolled before sowing. Seeding should then take place with the seed being placed on the soil rather than deep in the soil. Avoid having a fluffy seed bed as the grass seed will go too deep in the soil and lead to poor germination. The reseed should be rolled again in an opposite direction to compress the seedbed and optimise seed/soil contact.
Post emergence management
Post emergence spray should be applied 5-8 weeks after reseeding. Use appropriate sprays depending on clover content.
It takes 11 months for a new sward to get fully established; therefore managing the reseed in this period is very important. Graze the new reseed as soon as the plants are well rooted and do not pull out of the ground, at a cover of 700-1000 kg DM/ha. Graze the reseed with young stock or calves, or if ground conditions allow, graze with the main grazing herd. For the next few grazing's, at lighter covers (≤1400 kg DM/ha) to encourage tillering. Avoid cutting for silage in the first year of establishment.
Autumn reseeding should be carried out over the next few weeks if:
Enough fodder reserves have been made for the winter.
Stocking rate can be reduced i.e. silage ground can be grazed to increase grazing area and reduce stocking rate or cull and empty cows are sold to reduce demand.
For more information or brochures call into Rhyno Mills Farm Store, call the office on 066-7141205 or check out our website www.rhyno.ie
We have a large range of top-quality grass seed mixtures from DLF, Drummonds, HF Seeds and Germinal. We can cater for special mixes or single varieties on request.
To arrange a field visit or to discuss your grass seed requirements contact your local sales representative: Connie 087-2525483, Gearoid 087-9840595 or Shane 087-249 6948.